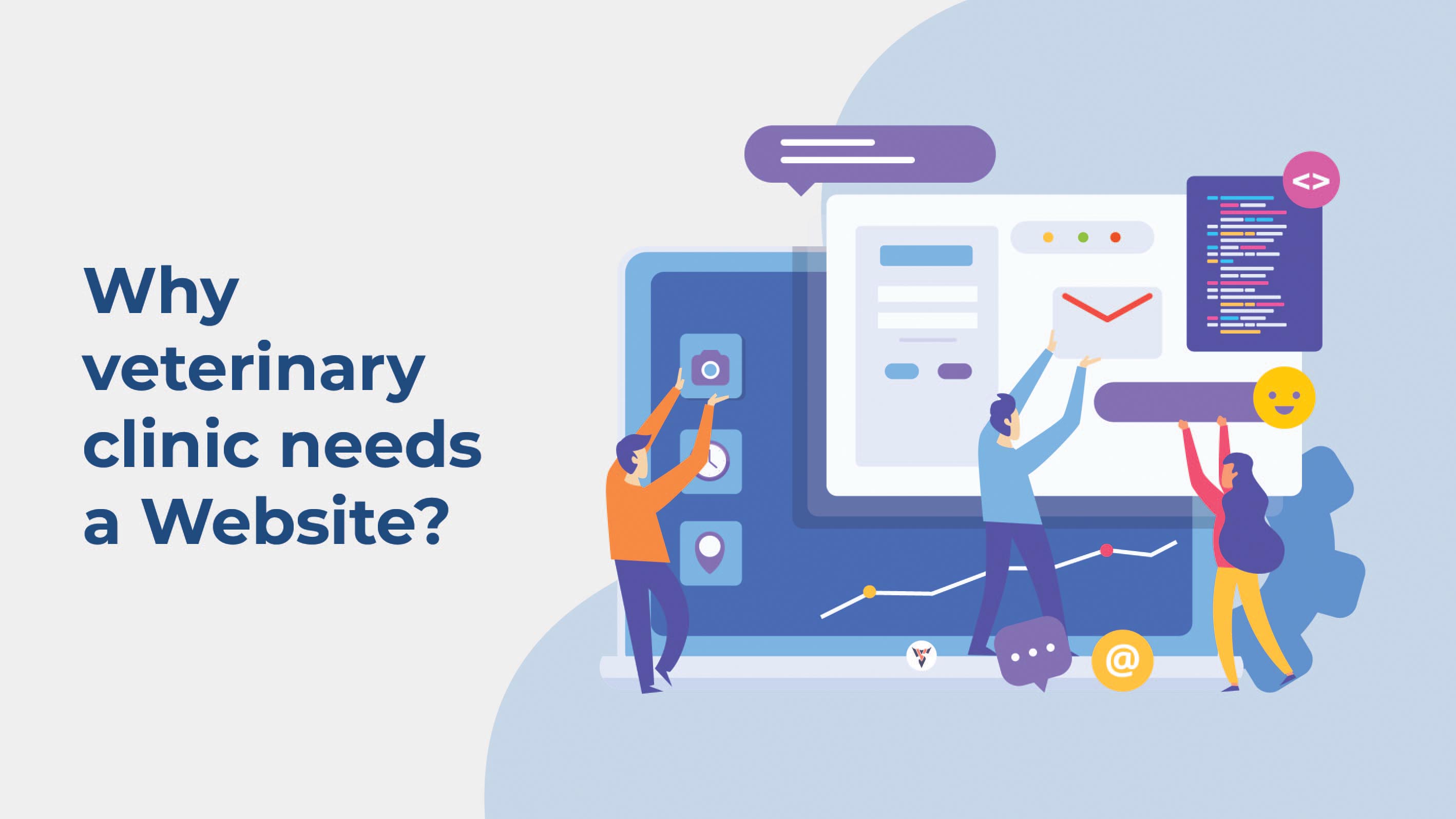 Last Updated: 28 November 2019
You Are Leaving Money On The Table If You Don't Have A Website for Your Veterinary Practice (Read This Even If You Have A Website)
---
"I do have a presence on social media. Then why do I need a website?''
We've heard this several times from many practice owners.
Additionally, those who already have a website said:
"We invested $2500 for the website and we don't see any significant difference."
Online presence with a website should not be taken as a short term tactic that will immediately help you get some new customers.
If getting new customers in the next three months is your goal, then building a website won't help you achieve that.
Also, just having a website doesn't help. You need to actively promote it - just like you would promote your clinic.
Your website is an essential element that should be designed and planned strategically.
In this post, we'll show you:
&nbsp &nbsp &nbsp &nbsp &nbsp A. Role of your website in the growth of your practice
&nbsp &nbsp &nbsp &nbsp &nbsp B. How much does it cost to develop a website
&nbsp &nbsp &nbsp &nbsp &nbsp C. Things to keep in mind while designing a new website
Let's see if having a website can really give you visibility
We found out what pet owners are searching for on Google in the US.
Here are the results: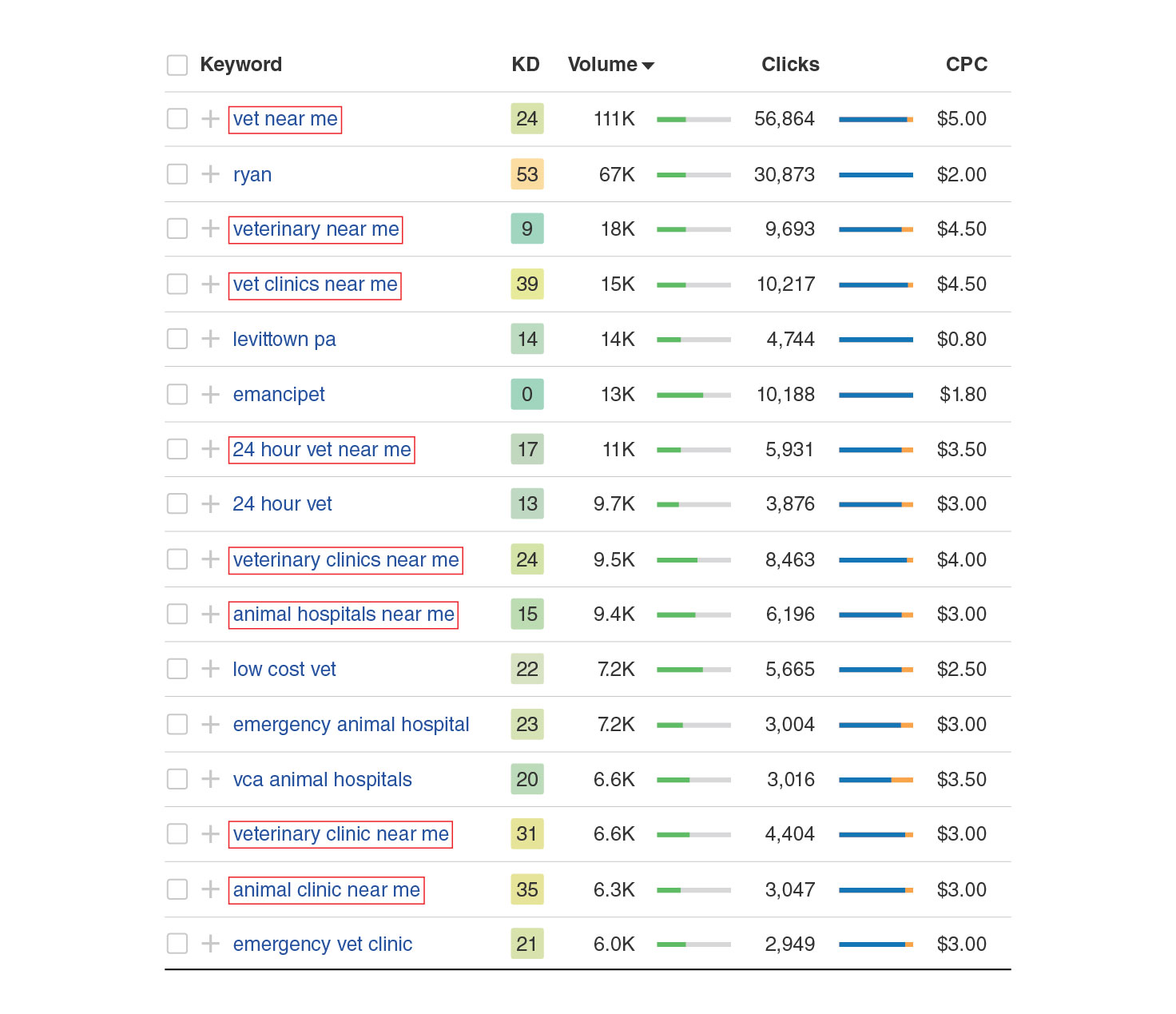 Source: ahrefs
You can see from the above trends that most are the local searches (that is "near me" type). You are losing hundreds of these clients each month by not having a website or not promoting it.
These 'near me" searches have high commercial intent as the people searching for them are not just looking for some educational content.
They are actually looking for a nearby veterinary where they want to visit today. That means, they are in the market actively looking for a solution.
Long story short - you won't just get visibility, but also new customers through your website.
But the most important thing to remember here is:
Your website should rank for these terms that pet owners are searching for. Means you need to continuously work on your website for it to rank in the search engine like Google and Bing.
The motto is not build the website and be done.
Isn't Social Media Enough?
For the practice who have just started, it may be enough to just use social media for promotions. But for those who are in business for more than a year, there are core problems with relying just on social media:
&nbsp &nbsp &nbsp &nbsp &nbsp A. You don't own the platform: Every five years, a new social media emerges which help you initially but what happens after that?
An update from the social media platform and your reach dwindles. All the efforts you made till now to build your audience will be reduced to dust in a single shot.
There were many businesses who had made this mistake of relying completely on Facebook, and when Facebook made changes to its algorithms (an algorithm is a set of rules which defines how a website work,) they had gone out of business.
See in the below image, how the "post reach" (post reach means how many of your subscribers are shown your post) declined over time on Facebook. And such trends will continue in the future, as these social media platforms keep changing their algorithms to force businesses to spend on advertisements. (See the image)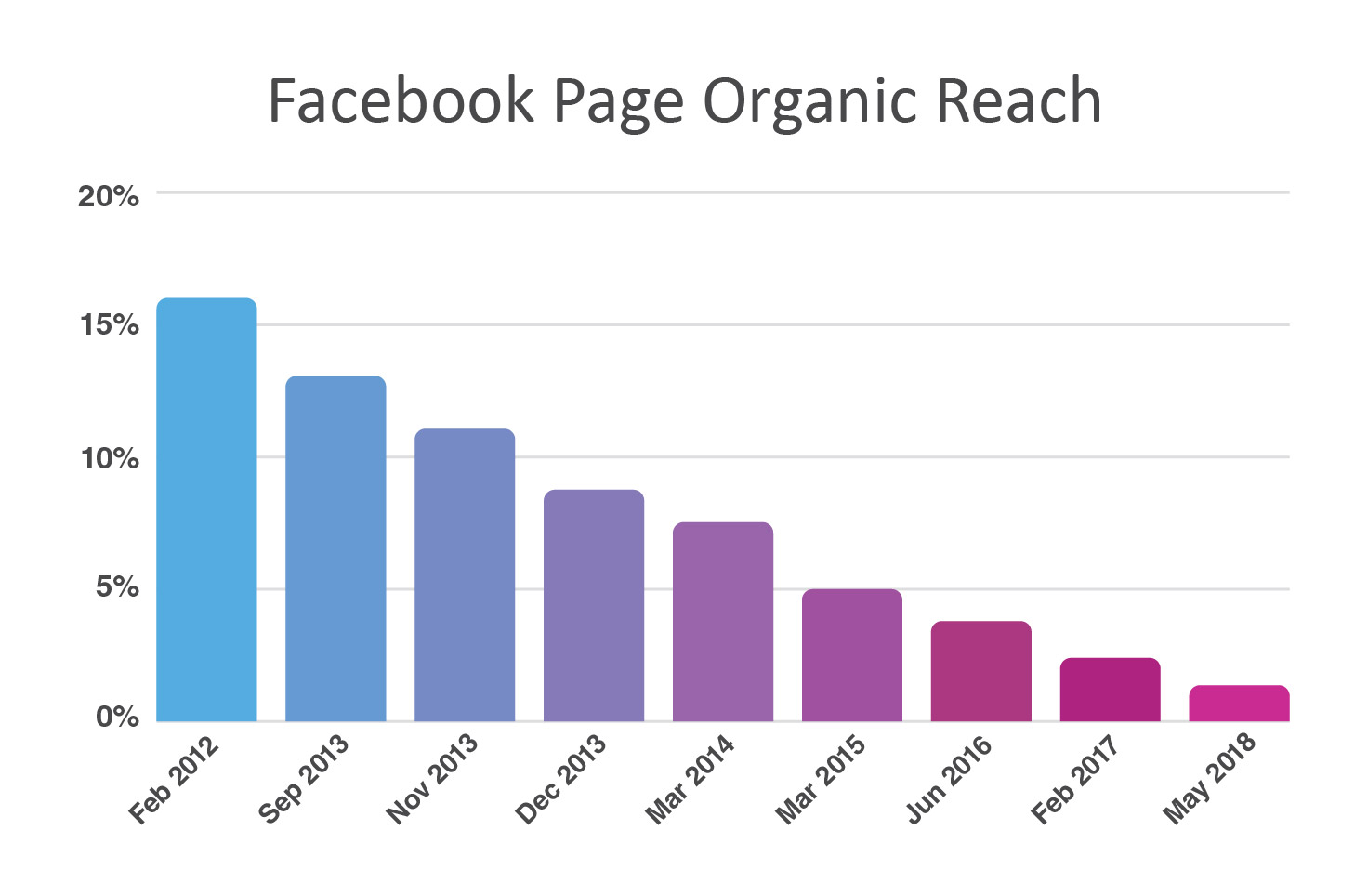 Source - neilpatel.com
&nbsp &nbsp &nbsp &nbsp &nbsp B. Limited functionality:
You've to play by the options provided by these social media.
&nbsp &nbsp &nbsp &nbsp &nbsp C. No data availability: You won't be able to collect your clients' data (like capture their emails, and phone numbers). Hence, analysis of your consumer behaviour is also not possible.
Websites Help Build Trust & Credibility
According to the American Marketing Association, over half of consumers look at the website to learn more about a brand.
A website not only shows that your clinic is professional, but it also builds trust & credibility.
Google recommends putting at least what is called NAP in the digital marketing world. (NAP stands for Name, Address and Phone number.) You can link your website to "Google my Business" which makes it easy for pet owners to find your clinic.
Websites Act as the Point of Interaction
Your veterinary clinic website can be leveraged to generate leads & convert them into clients. Monitoring user interaction on your website also gives you a chance to collect information about your current and prospective clients.
You can also conduct surveys & audience polls to know about the opinion of your clients on certain things. You can also encourage your audience to engage more on social media pages.
Recently, chatbots have gained popularity for increasing engagement with your website visitors posing as assisstants even when no one from the clinic is available to provide any information.
Tawk offers a free chatbot that you setup on your website very easily. You can also set up proactive chat option which can start a conversation with a new person as soon as they visit your website.
It also serves as a touchpoint for possible business partners, vendors & suppliers.
Source of Information
Your website is the primary source of information for your business.
Pet owners who are researching about your veterinary clinic may want to know:
&nbsp &nbsp &nbsp &nbsp &nbsp A. What are the services you provide
&nbsp &nbsp &nbsp &nbsp &nbsp B. What does the clinic specializes in
&nbsp &nbsp &nbsp &nbsp &nbsp C. The visiting hours of the clinic
&nbsp &nbsp &nbsp &nbsp &nbsp D. Option for Online Appointment Booking
&nbsp &nbsp &nbsp &nbsp &nbsp E. Information about the team of doctors & staff in the clinic
&nbsp &nbsp &nbsp &nbsp &nbsp F. Educational content for clients like blogs and infographics
&nbsp &nbsp &nbsp &nbsp &nbsp G. What your clients think about your clinic (testimonials)
Help you better understand your prospects
The best thing about website is analytics.
If you have a website, you can measure, analyze and learn about your prospects.
You can find out why some pet owners decide to visit or not visit your clinic. This will help you to make decisions based on real data rather than assumptions.
A free tool like Google Analytics will do the job. (Google Analytics is a very powerful tool that can help you get insights about your website visitors. Let us know if you want a detailed article on how to set it up and get insights about your website visitors).
Things to keep in mind while developing a new website for your veterinary clinic (you can skip this section if you already have a website)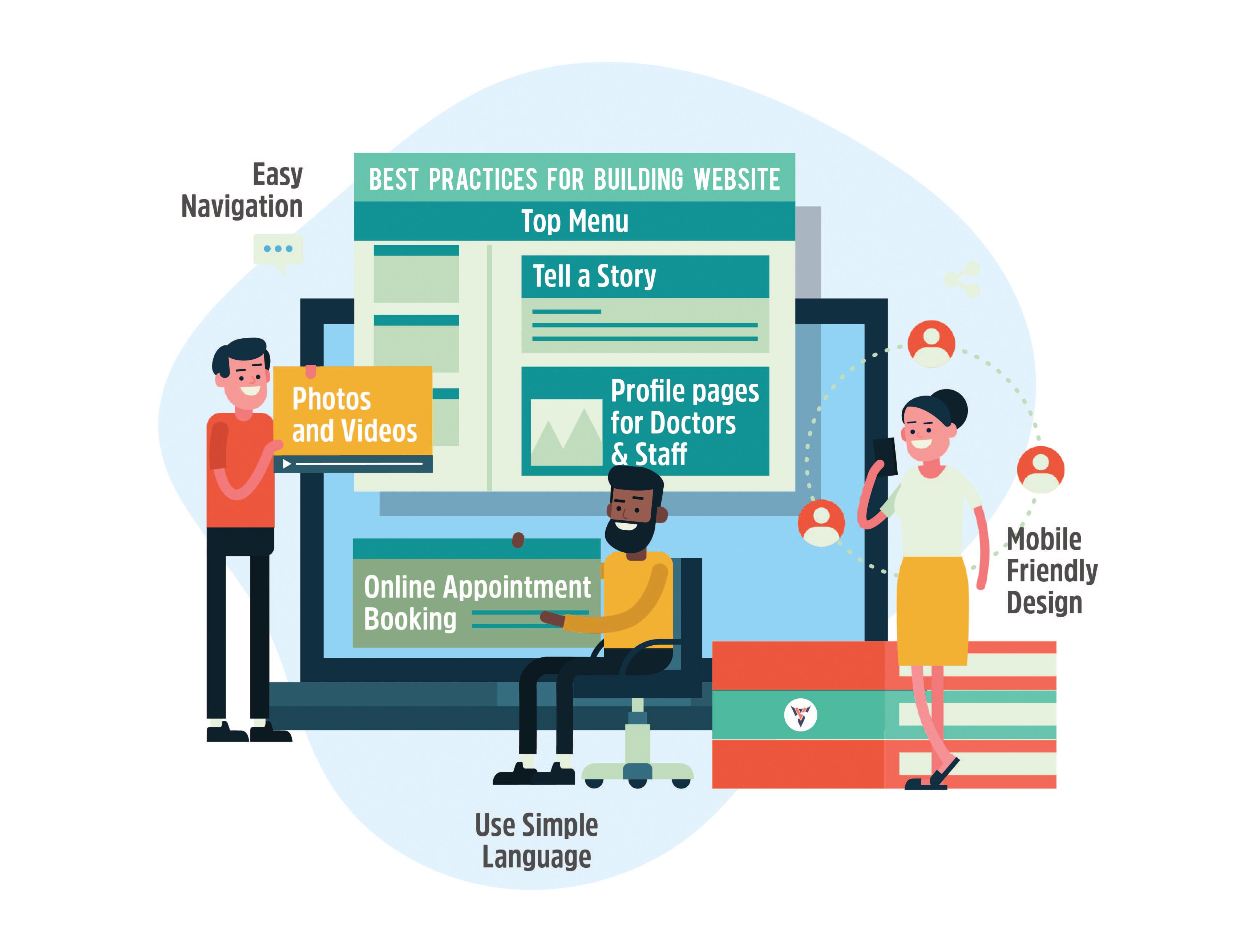 1. Easy Navigation: This is the first thing to be kept in mind while building a website for veterinary clinics. There should not be any confusion on where one should find a particular information. The standard format of veterinary industry should be followed on the website.
2. Top Menu: The top menu of the website must contain these items, "Home," "About Us," "Services," "Team" & "Contact." The top menu should also have logo of your clinic.
3. Mobile Friendly Design: Mobile responsiveness is a big factor to consider when it comes to design of veterinary clinic websites. Most of the customers who research about the clinic on internet use mobile devices for the same. If your website fails to load properly on mobiles, then all efforts goes in vein.
4. Online Appointment Booking: Your clinic should have enabled the online appointment booking feature on the website so that your clients can directly book appointments from your website. The 'Online Appointment' option should preferably be placed on the home page & contact page.
5. Tell a Story: People have a tendency to grasp the information easily when they are presented in a story format. Hence, it is recommended to tell a story around the vision, mission & values of your veterinary clinic. People relate to stories which are inclined to the values they believe in.
6. Photos & Videos: Displaying photos & videos on your website is a great idea to catch your visitors attention. However, it is not recommended to display fancy images of smiling doctors with pets downloaded from shutterstock. Rather, using the real photos of your clinic will show that your clinic is really what it shows on the website. Also, displaying the real photos of your staff, doctors & patients will create a sense of belongingness for all the stakeholders of your clinic.
7. Profile pages for Doctors & Staff: To add more credibility of your clinic, your website should contain profile pages for all the doctors & staff of your clinic. Mention the information about their Qualification, Education, Specialization, Hobbies & Interests on the profile page of each doctor & staff of your clinic.
8. Use Simple Language: Most of the time when creating content for website, we end up using a lot of technical terms & jargons. The clients & prospects who are visiting the website are not doctors. It will become difficult for them to understand the content if we do not use simple words to explain things. One must avoid technical terms while creating content for the clinic's website.
9. Fast Loading: Most people leave a website if it takes more than 3 seconds to load. For every increase in second, you'll lose 10% of the visitors. (This is called bounce rate in Google Analytics.) To view your website's Bounce Rate, after logging in to your Google Analytics accounts, go to Behaviour> Site Content> All Pages (see image below)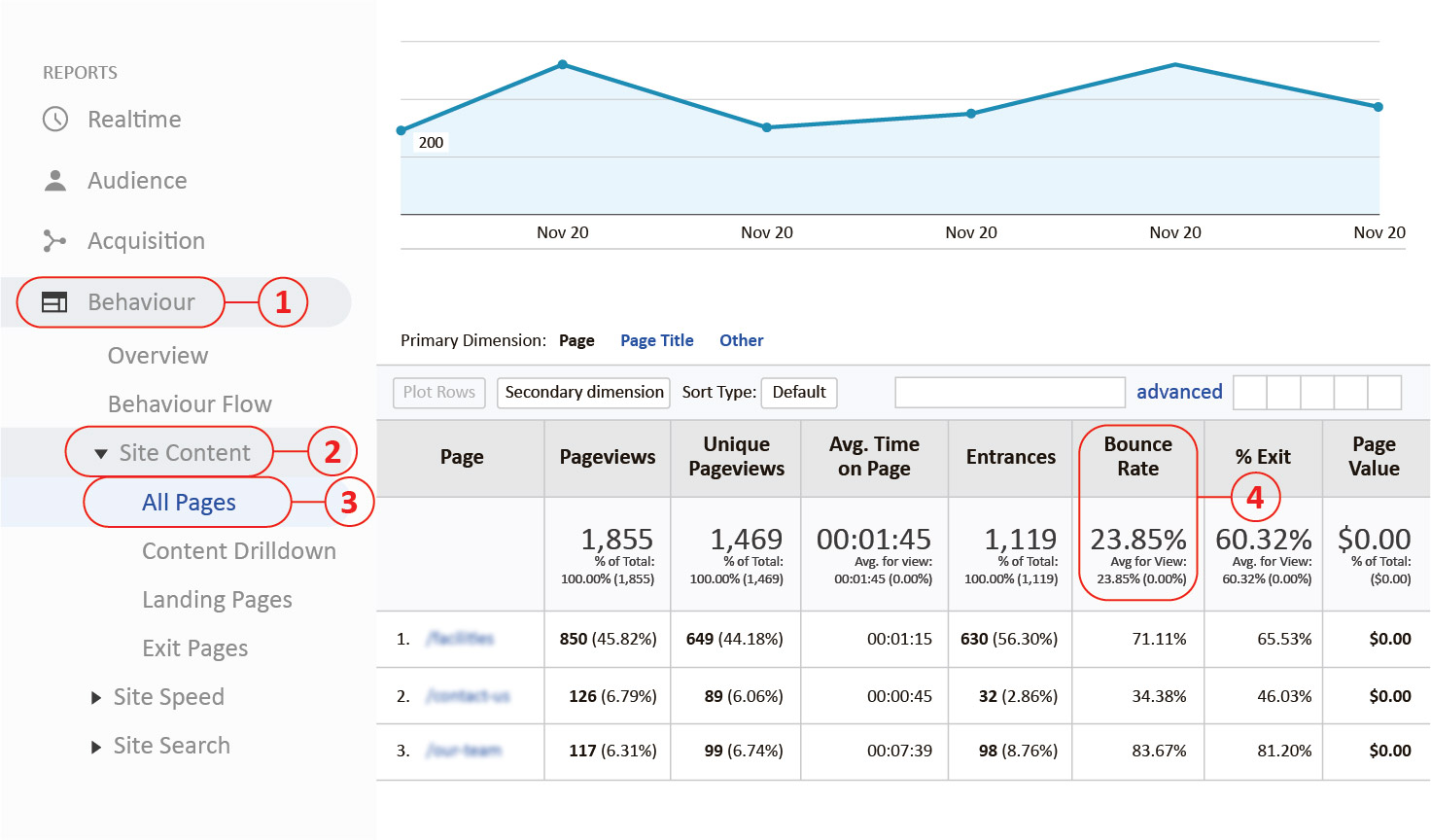 You can also check your page load speed here for free. (Just enter your homepage url, and you'll see the load speed with suggestions to improve it).
VETPORT Websites
You can create beautiful websites for your clinic right within the Vetport application. Creating clinic website is very simple in Vetport.


All you need to do is to select the right template and fill few information about your clinic.
Your website will be ready within seconds. This feature is only available for Vetport customers only at an additional charge of $20 only. Vetport websites are SEO optimized, mobile responsive & custom made for veterinary industry. You can integrate additional features like Online Booking on Vetport websites with just a click. Create stunning websites for your veterinary clinics only on Vetport.
Get 15 Days FREE Trial
No Credit Cards Required. Sign up Now!!!