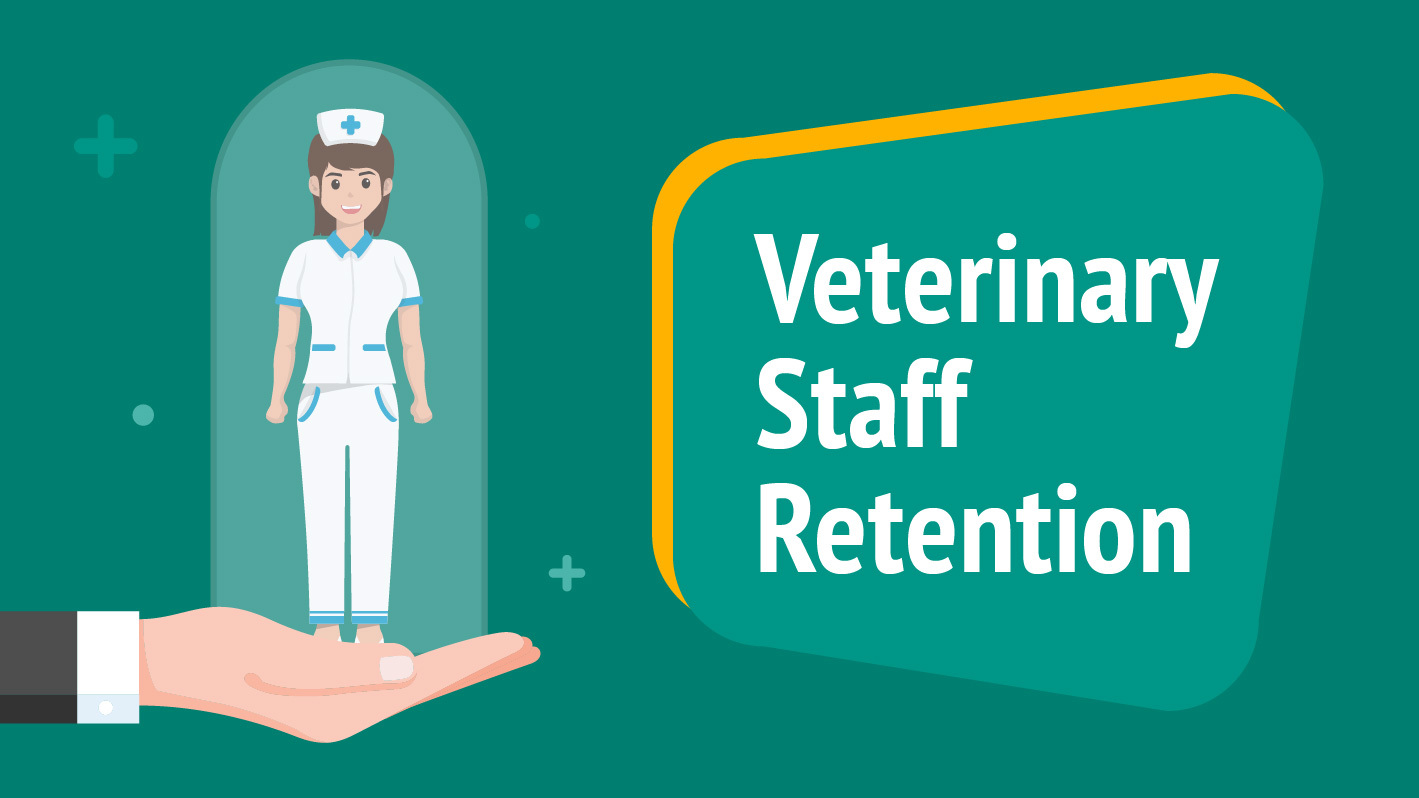 Published: 02 September 2020
Veterinary Staff Retention
---
According to the Veterinary Hospital Managers Association (VHMA) Compensation and Benefits survey, the employee turnover rate in the vet industry is 21 percent.
On the other hand, a study on LinkedIn stated that the turnover rate for industries worldwide is between 9 and 13 percent.
Why do vet practices have a significantly higher turnover rate compared to the average in other industries?
The answer may be too complicated to boil down to tangible factors.
What are the most important reasons behind staff turnover?
Burnout and stress are the most common side effects of this intensely emotional profession, and may indeed be the most important factors contributing to high percentage of staff turnover within vet clinics.
Especially in smaller clinics, some staff members are expected to wear a lot of different hats.
Not only do they have to be the assistant to the vet, they also have to be the manager because the practice owner may not want to hire people for those positions.
Overall job dissatisfaction and burnouts are the most common reasons for an employee leaving a job, but that's not all there is to it.
Compensation is also an important factor.
According to this study of paraprofessionals, including veterinary technicians, it has been found that 38% of employees leave their current job because of insufficient pay.
But whatever the reason maybe, staff turnover is an expensive issue in any kind of business. And in the veterinary industry, it can have far reaching consequences on the longevity of your practice.
The financial impact of employee turnover
Consider this:
The median salary of a veterinarian staff member in the US is $30-50,000.
The turnover cost for replacing an employee is 20% of the departing member's annual salary. Therefore, you would be spending around $6-10,000 for replacing the employee.
However, if the employee salary is higher, or if the turnover is high, this figure can multiply very quickly.
For instance, if on average, you lose three employees in the space of one year, the costs have gone up to nearly $18000-$30,000.
The financial burden can further add up when you calculate the time spent on training new employees or even interviewing prospective employees.
Productivity cost of employee turnover
The productivity of the office can take a major hit when you lose an employee.
For instance, if you lose a technician, the appointments will be delayed because of inadequate staffing. Or if your employee at the front desk leaves, confirmations will go unchecked and there might be more no shows.
All of this adds up and can cause a snowball effect.
Fall in the quality of patient care
High employee turnover can also compromise patient care.
If there is an emergency, and the staff on duty is completely new and not properly trained, it can compromise the quality of patient care.
Disturbance in employee morale
Older employees who have to constantly train new people will take a hit because they now have to do their own job as well as train a new person.
Moreover, an employee voluntarily leaving the workplace will also negatively affect the morale of other employees who now have to work extra hours and pick up other people's responsibilities.
For these reasons, and many others, it is important to increase employee retention.
How to reduce employee turnover
Here are some ways in which you can increase employee retention at your clinic:
1. Be appreciative
People who never hear thanks will feel underappreciated and dissatisfied with their work. Support staff also tends to be at the receiving end of angry clients' words.
You can show appreciation for your staff using the following methods:
Offer personalized thank you notes from doctors and management on a regular basis.
Organize thank you lunches or snacks after a difficult day.
Recognize contributions of support staff during staff meetings.
Plan team outings.
Educate clients about the importance of the role of the staff besides the veterinarian.
2. Train your team
All team members in the clinic should be trained to do their jobs properly.
Sometimes, some employees leave because they are overworked due to handling other members' responsibilities. Training your staff members will eliminate such situations.
Moreover, new employees can also become overwhelmed quite quickly if they do not have the right training for the job.
A formal training program that includes the procedures and policies of the clinic, including safe animal handling and restraint techniques, customer service, computer training, etc. Can help your employees do their jobs more confidently.
This will ultimately help in retention as well.
3. Offer opportunities for growth
Lack of advancement at a particular establishment is the most important reason that people leave jobs.
Make sure that your clinic has enough opportunities for advancement of your employees. Then your employees start seeing their position within the clinic as a career, instead of just a job, they will be more invested and are also less likely to leave.
4. Reevaluate the hiring process
For most people, salary is an extremely important, or even the most important consideration when they start looking for new jobs.
If your staff is being underpaid, the best of your team members will start looking for better pay and benefits. And if you settle down for a mediocre employee, your clinic will suffer.
When you are hiring a new veterinary technician or support staff member, make sure that you do your due diligence and find out what the competitive rates are and how much are other clinics paying the people in similar positions.
If your clinic is not offering a competitive package, do consider increasing salary.
While it may seem costly in the beginning, the cost of recruiting, interviewing, and training new team members will actually be much more than simply offering a better salary to your existing employees.
5. Create a team atmosphere
Pairing up experienced and veteran employees with new ones can also help reduce turnover.
When a new employee joins you, find them a mentor that can check up on them frequently and offer them assistance and advice if it is needed.
Organized team building activities like outings and office parties to increase the spirit of teamwork among the staff members. Empower your staff members to help each other and create a healthier, friendlier environment for everyone.
When your employees feel like they are part of a family, they are less likely to look for other avenues of employment.
6. Reduce burnout
Dealing with unhappy clients, uncooperative animals, or angry words can often lead to frustration among employees, no matter whether it's a receptionist or a veterinarian.
In order to prevent burnout, you can assign certain duties to your employees in an alternative manner.
For instance, switch up the tech assignments between different technicians, or assign cage cleaning duties to different members of the staff on a particular day of the week. This will help reduce boredom among the employees, while also widening the horizons of each member of the staff.
Closing thoughts
The success or failure of a clinic depends heavily on the quality of their employees. If you choose your employees carefully, and provide them a positive working environment, you are guaranteed to reduce turnover and retain your most important team members.
Related Articles
Get 15 Days FREE Trial
No Credit Cards Required. Sign up Now!!!